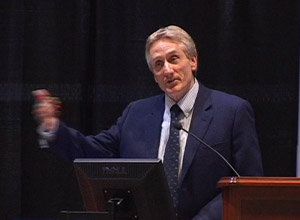 Bron Taylor is in high demand as a public speaker.
He has given over fifty invited or keynote lectures outside of the United States – Sweden, Switzerland, Germany, Portugal, Spain, South Africa, the United Kingdom, Ireland, Norway, Chile, Mexico, Turkey, Denmark, Italy, Canada, Belgium, and the Netherlands – as well as over eighty invited or keynote lectures in the United States. The venues have included some of the most prestigious universities in the United States, including Princeton, Harvard, Stanford, and the great public universities of California (Berkeley and Santa Barbara), and Colorado (Boulder and Colorado State). Combined with presentations at academic conferences and local and regional talks, he has given over 230 public presentations over the past twenty-five years. For details see his Curriculum Vitae (resume).
Professor Taylor is available for presentations related to his most recent books Dark Green Religion, and Avatar and Nature Spirituality, as well as on other subjects within his areas of expertise, including bioregionalism and radical environmental movements, the academic fields of 'religion and nature' | 'religion and ecology,' nature religions (including paganism and aquatic nature religions such as surfing), environmental humanities, interdisciplinary environmental studies programs, environmental history in North America, environmental ethics and population issues, National Parks and biocultural conservation, the United Nations Environmental Summits, and ethics related to Affirmative Action. Recommendations by his hosts are also available.